This was fun! For the past 2 months this event has been in the planning stages and this past weekend it all fell into place! First of all, back in January JJ PM'd me to say "if there's anything planned for Charlie's 50th birthday this year, let me know". Well, I didn't even know it was his 50th this year, so I immediately started investigating. I sent an email to Charlie's brother, who is also with the Sub Station II empire. He notified Jan, Charlie's wife. I had to go "around the world to find out Jan's cell number" because I've never called her and couldn't get in touch with her any other way. Of course, I didn't want to tip off Charlie of any possible party plans, so I couldn't call him!!! Well, I got the number and gave her a call to find out if anything was planned. She told me that she "was thinking about that" herself. I told her that JJ and myself wanted to be included if anything was planned. One thing quickly led to another and the party date was selected! I PM'd JJ about it and she made her airline reservations! I told her that if she REALLY wanted to surprise Charlie she should fly into Columbia on Friday and stay with us at Casa de Tiny. Then we'd all drive up together on Saturday to suprise him. She agreed! So...on Friday April 7th at 3:45 pm I picked up JJ from the airport! Just in case she didn't recognize me (yeah, right!), I decided to give her a little hint:
I think she "might" have found me anyway, but here we are immediately after she and I met:
After a quick tour of downtown Columbia, we headed out to Casa de Tiny. We met up with Outfield Jack and another buddy, Jim, at the world famous Wild Hare for some supper and a cigar. The weather was very nice that night, so we went back to the house to sit in the "cigar room". I opened a bottle of 20 year old Tawny port for JJ and me! Here's some pics from that good time:
JJ talking with Outfield Jack:
JJ in the "Cigar Room":
The plan was to surprise Charlie, and I think we did. He didn't even know Connie and I were coming! When we got there Charlie was not even there! Good! We had a chance to be in the house when he got there! He drove up a little later and was surprised, or scared, when he saw me! He knew that Jan, his wife, had planned a little bigger party than she let on. She had told him that she was having a "few friends over" on Saturday for his birthday. Once the initial shock of seeing me was over, I quickly told him that we had to give JJ a call on the cell phone because she knew all about this and wanted to be a part of it. He thought that was a crazy idea since it was 9am on the west coast! While his back was turned trying to make the call, JJ appears from behind him and he was "SHOCKED"!!!!!
Notice that he is clutching his chest!!!! Well, needless to say, the party really started then! Charlie was typical "Charlie", being extremely generous with everything and smiling from ear to ear. Per his mandate, no N/C's were to be smoked that day! He graciously handed out Habano's from his stash. Of course, he showed JJ his cigar room that also doubles as his bedroom! Her 2 humidors she made him were proudly displayed, of course, full of only the best!We all enjoyed the day and great bar-b-que. The day was a little wet but it did not dampen our good time. Here Charlie tells "war stories" around the albums that had pics from his recent aircraft carrier trip: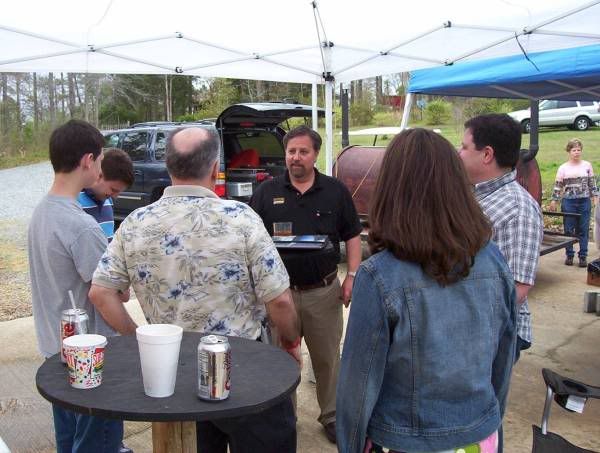 Of course, what's a birthday party without cake?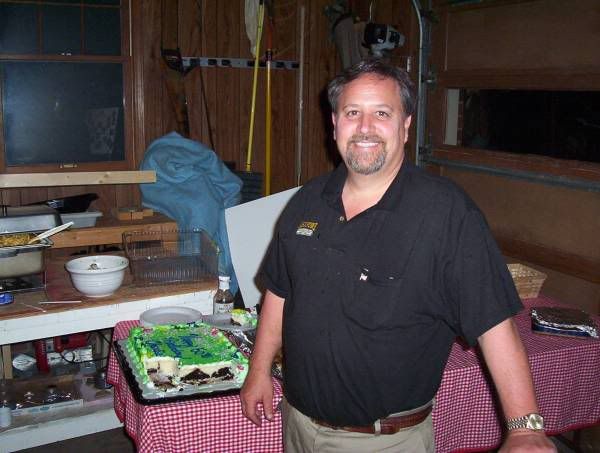 I consider Charlie to be one of my good friends, so only the best present for him; a bottle of Pappy Van Winkle 20 year Reserve bourbon from Connie, Jim and I: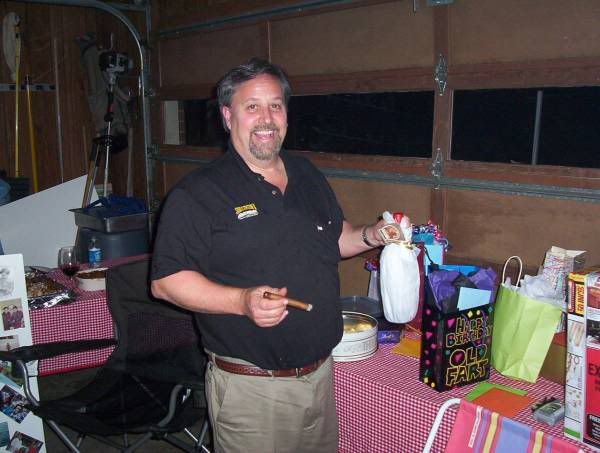 One final surprise that we had forgotten to tell Charlie about...JJ was staying at his house until Monday!!!! I'm sure that was the icing on the cake for him. How many Habano's do you think they went through over the past 3 days? LOLThe entire time was a blast! I had a great time meeting JJ and I'm so glad she decided to fly into Columbia!!!! Thanks for everything you gifted me JJ! Please come back again! You always have a room at Casa de Tiny!Here's our happy group:
L-R: Jan, Charlie, Tim, JJ, Connie, Jim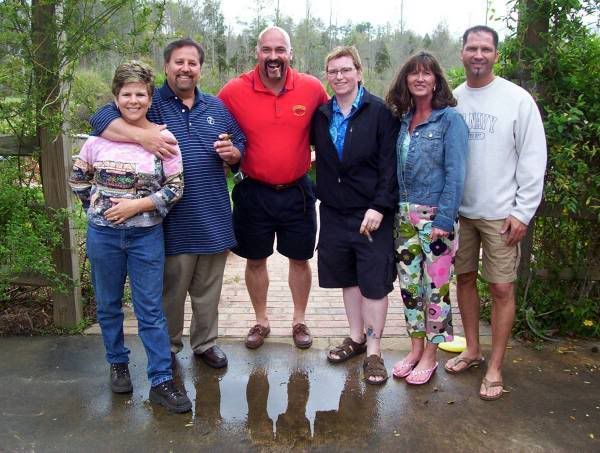 HAPPY BIRTHDAY CHARLIE!!!!!!!!