Wow! Unbelievable! Fantastic! Over the top!!!!
Those are just some of the adjectives that describe the SC Sit Down No. 4. This event turned out to be bigger than anything I could have hoped for. We held the event at the Wild Hare Sports Bar in Irmo, SC. We had a total of 57 attendees! Everyone was greeted at the door with a zip lock bag full of 10 cigars!!! Then, after signing in they went to an adjacent table where Dickson Ware, representative of the Altadis cigar group was sitting with 2 more cigars; Juan Lopez and Trinidad maduro! That's 12 cigars for walking in the door!!!!
We also had 2 charity raffles; one for SisterCare
http://www.sistercare.com/index.html
and The Cigar Family Charitable Foundation
http://www.cf-cf.com/
, both worthwhile causes. There were 2 different charity raffles because the Cigar Family had sent us a Kensington humidor to raffle for their particular charity. The SisterCare raffle was full of various prizes ranging from lighters to another humidor provided by CigarBid.com. The total raised for SisterCare was $520! The humidor provided by Cigar Family raised $400! Both great amounts! This was our first raffle but I'd say it was a success!!!
We raised a total of $920 for the 2 charities!!!!
The list of vendors is tremendous! I only hope that we can count on these companies next year!
The complete list follows. Vendors and manufacturers highlighted also donated raffle items:
Humidpack
United Tobacco
Lil Brown Smoke Shop
Mike's Cigars
Caribe Imported Cigar
General Cigar Holdings
Altadis
TBS-Cigar.com
Torano Cigars
CigarBid.com
Cigar Aficianado
Alec Bradley
Modern Age Tobacco
Top Shelf Cigar Co.
Vegas Santiago Cigars
J. C. Newman Cigar Co.
Padilla Cigar Co.
Cigars International
J. M. Tobacco Company
Lianos Dos Palmas Cigars
CAO
Holts
Cuban Crafters
S.A. G. Imports, Inc.
Camino Viejo Tabacos
Oliveros
Puros Indios Cigars
Nick's Cigar World
PUROS de Armando Ramos
29 companies!!!!!
That's quite an impressive list! Thanks to all the above companies for helping make the SC Sit Down No. 4 such a tremendous success!!!!
The day started at 10:45 with the set up. There were dozens of items to set up to raffle off. The crowd started arriving before noon! The afternoon was a blur of people arriving, smoking great cigars, chatting, laughing, eating, smoking some more, raffling off all those great prizes, then taking a multitude of pictures, then more socializing. Whew!!!! I was pooped! But it was so much fun. I actually left the Wild Hare at about 9pm!
The night before the Sit Down gathering at my house is becomming a tradition. I had 4 people join Connie and I at the house for a mini-smoke; Jim Massengale, Jim (Alchemist) and Rose, Mark (Cheeze) and Connie and I.
Here's a couple pics from the night before the Sit Down:
Mark (Cheeze)
Jim (Alchemist) and Rose: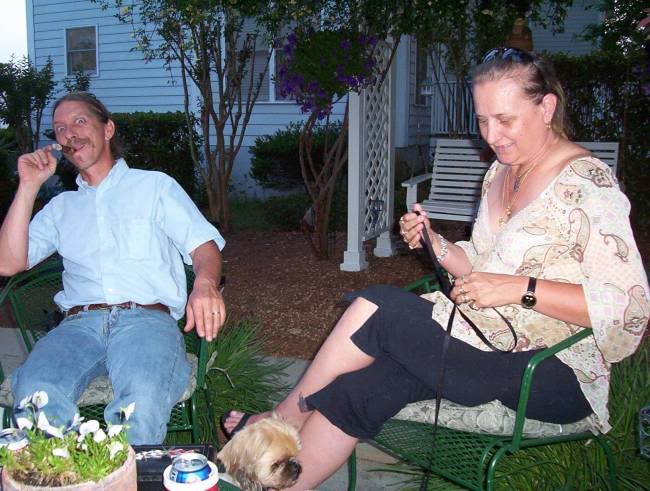 And now to the Big Day:
Dickson Ware, Altadis rep and me at the sign in table: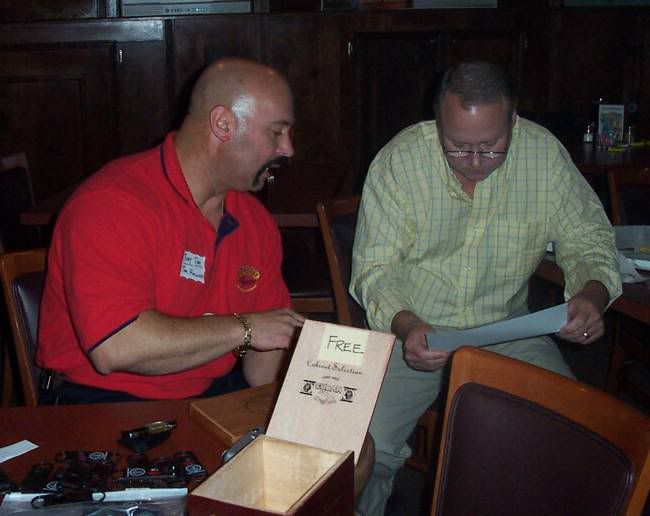 Of course, there were hot babes with their cigars!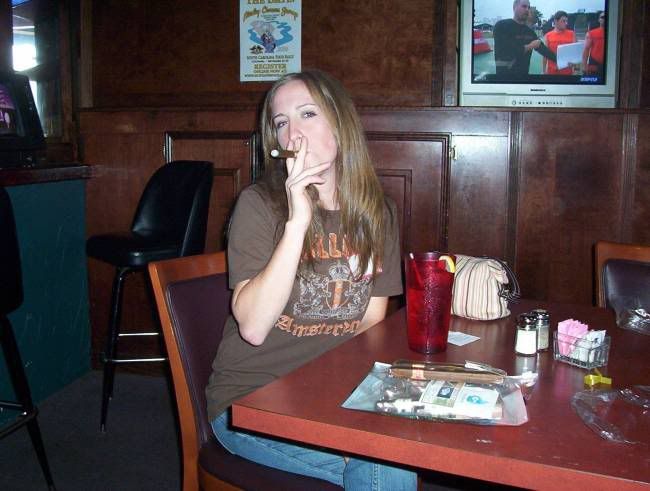 The waitresses got in on the act, too!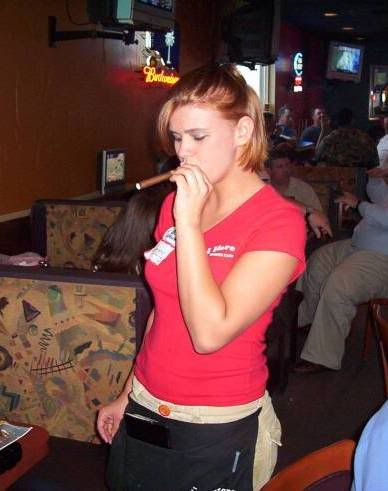 Lorax and Smokum from North Carolina: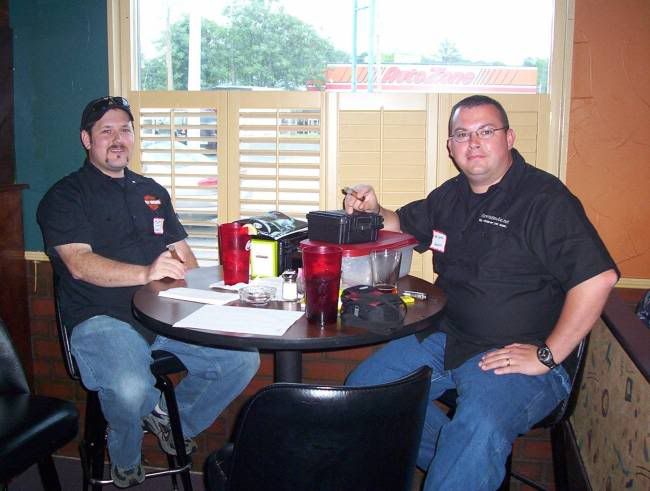 Terry (Tel) from Charleston, SC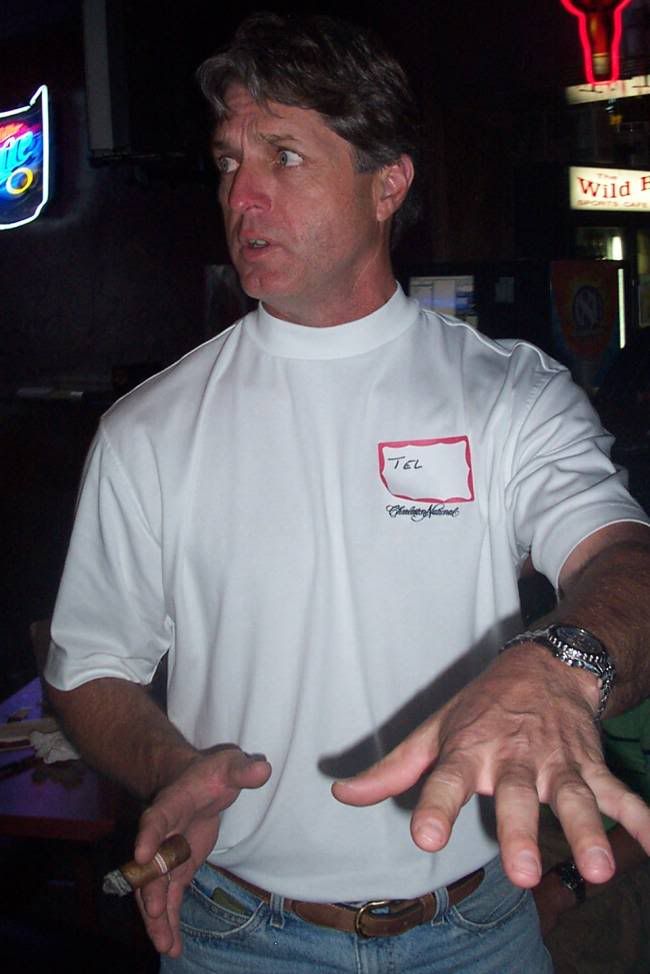 The 2006 version of Bildo792 (Bill Bovett)
Mark, George and "Twig"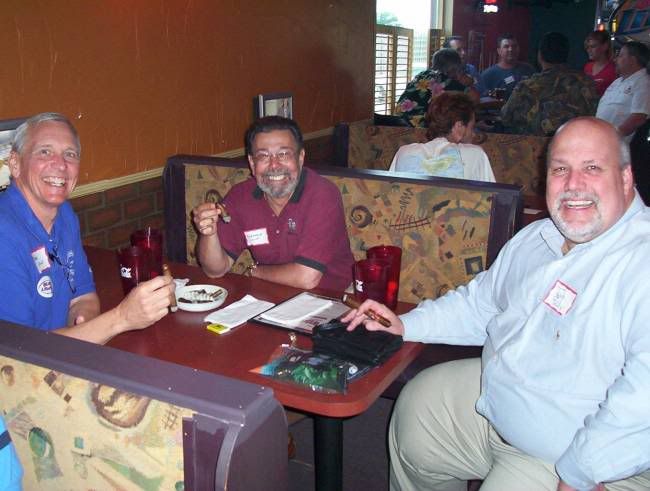 Ol' Bup: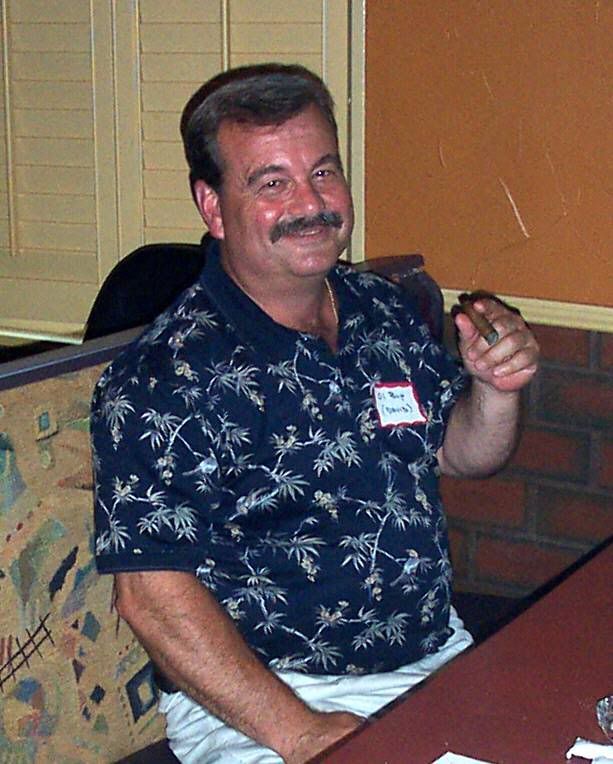 Ol' Bup and buddies: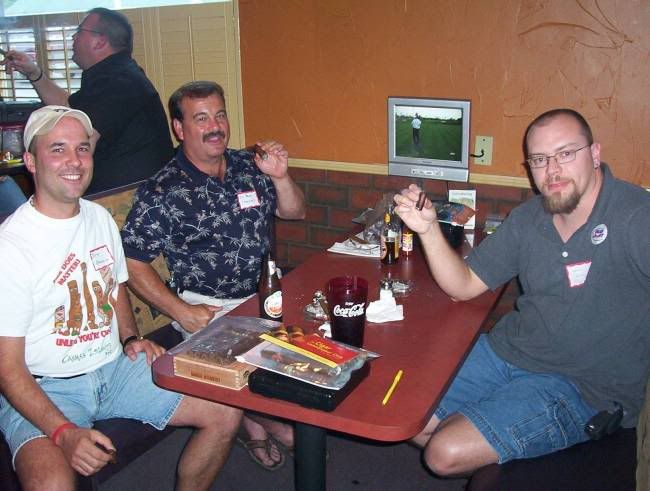 The Red Neck Bastids (RNB's) in attendance:

Obviously the raffle ticket table was well supervised!!! Connie looks on as Jim and Jim (Alchemist) take up money for the 2 raffles: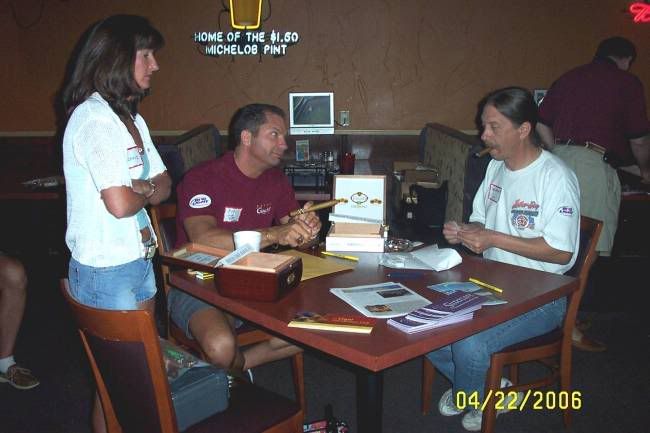 Now, time for the raffle!!! Here's yours truely getting ready to "Bark"!

Of course, I need a lovely assistant!!!! That's Kelly!!!!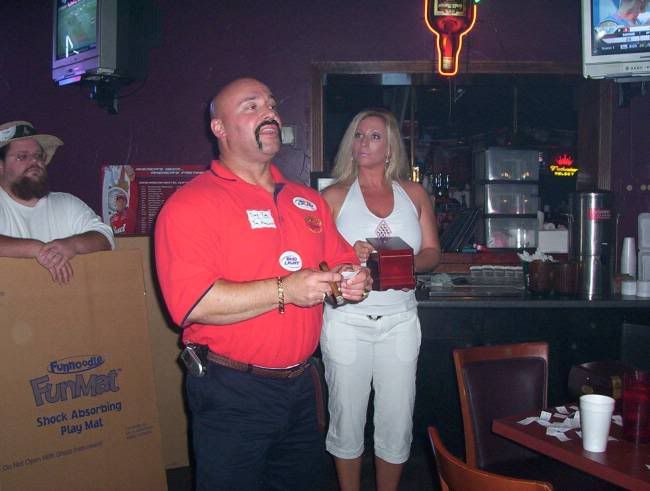 Torano hat and ashtray winners: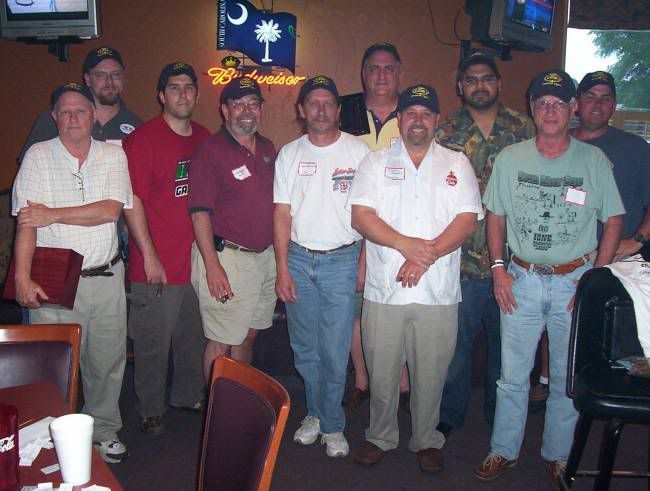 CAO hat winners: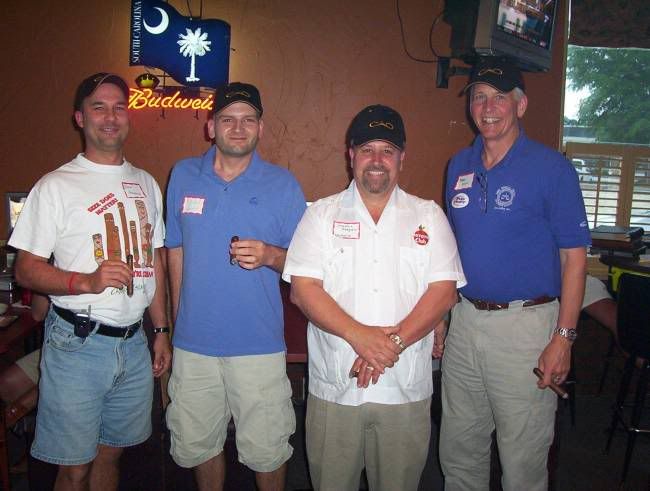 John Stier, CigarBid humidor winner!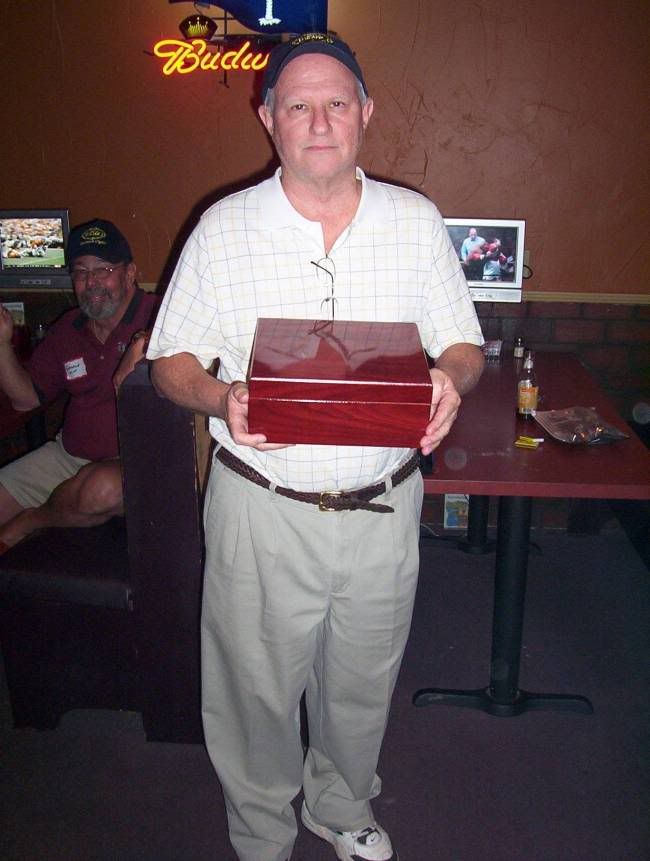 Clyde Jordan, Ashton churchill box of cigars winner: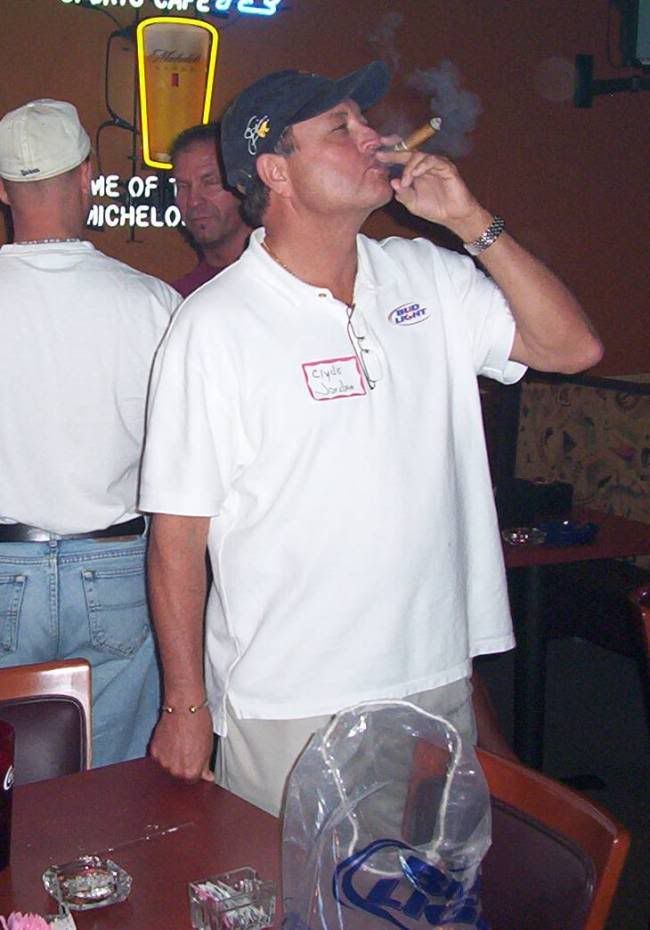 Charlie Ruffalo (Stogiesandhoagies); Cigar Family humidor winner: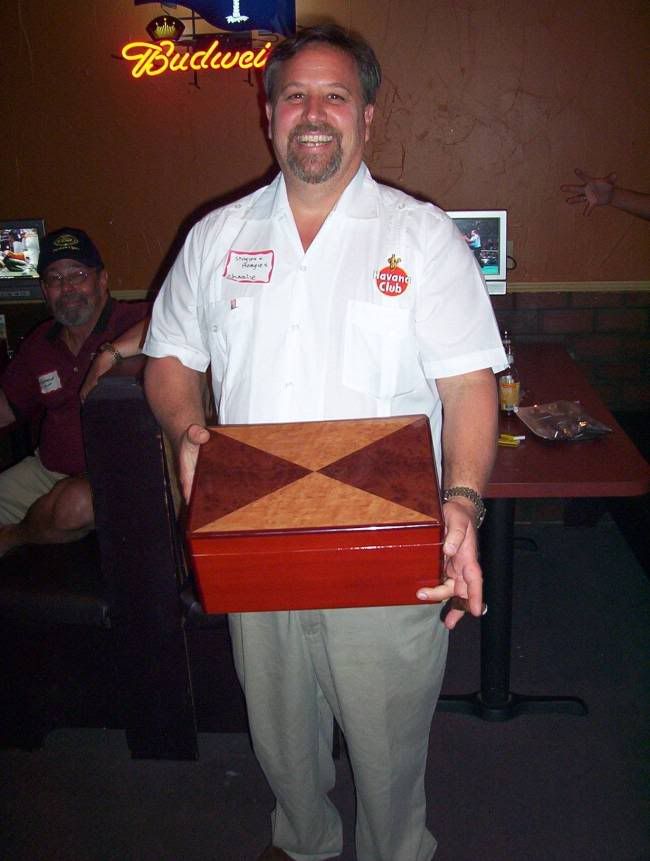 There were a total of
37 items raffled off!
Although I couldn't get a pic of everyone, rest assured all winners went home happy!!!!!
Tiny Tim, Connie, and Stogiesandhoagies: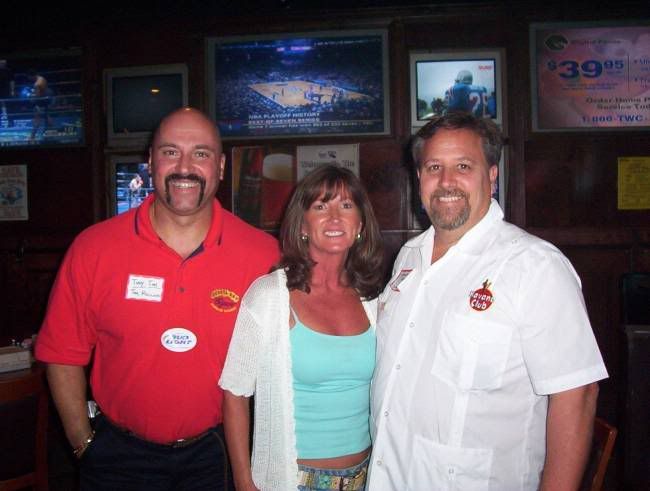 The place really cleared out after the raffles, but we managed to get a partial group shot of everyone who stayed late!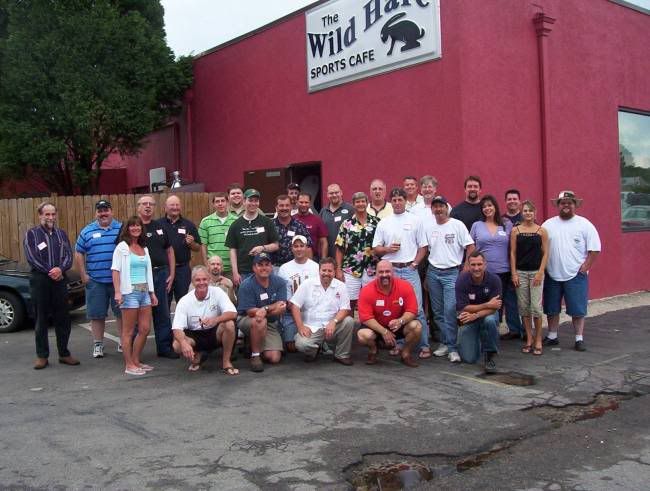 Again, to sum it up, a GREAT TIME WAS HAD BY ALL!!!!
Today, Monday, April 24th, I was pleased to present the SisterCare organization with the proceeds from our raffle; a check for $520!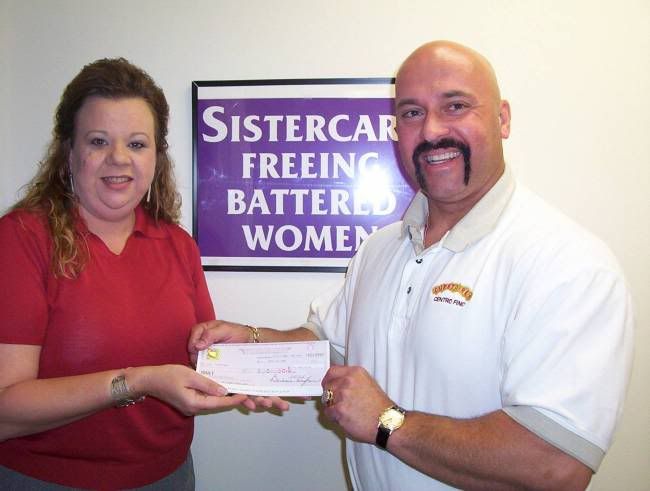 The other check for $400 is on it's way via US Mail to the Cigar Family in Tampa, Florida; home of Cuesta Rey Cigars!
Thanks again to all the wonderful vendors and manufacturers who helped with this event! Our next S C Sit Down is in October 14th, however this is a vendor free event! I look forward to seeing everyone in October, and again next April for the SC Sit Down!!!!