Monday, June 8, 2020 — Miami, FL- Drew Estate announces today the national launch of the Herrera Esteli Connecticut Broadleaf Lancero Tienda Exclusiva, exclusively to Drew Diplomat Retailers. This release will be showcased on the upcoming Freestyle Live: Special Edition hosted on
facebook.com/drewestatecigar
on June 11th from 7:00-9:00pm EST.
Initially launched as a Tienda Exclusiva to STOGIES World Class Cigar in 2016, the Herrera Esteli Connecticut Broadleaf Lancero is a testament to those aficionados who obsess over the smaller ring gauge vitola for its unique smoking experience. Every year Drew Estate pulls aside exceptional, higher priming broadleaf to use for limited edition releases, including this meticulously blended cigar. Featuring a high priming of Connecticut Broafleaf capa, with a bold Brazilian Mata Fina binder and rich Nicaraguan fillers, this Broadleaf Lancero is packaged in 15-count boxes and is a masterpiece from the mind of Drew Estate Master Blender Willy Herrera.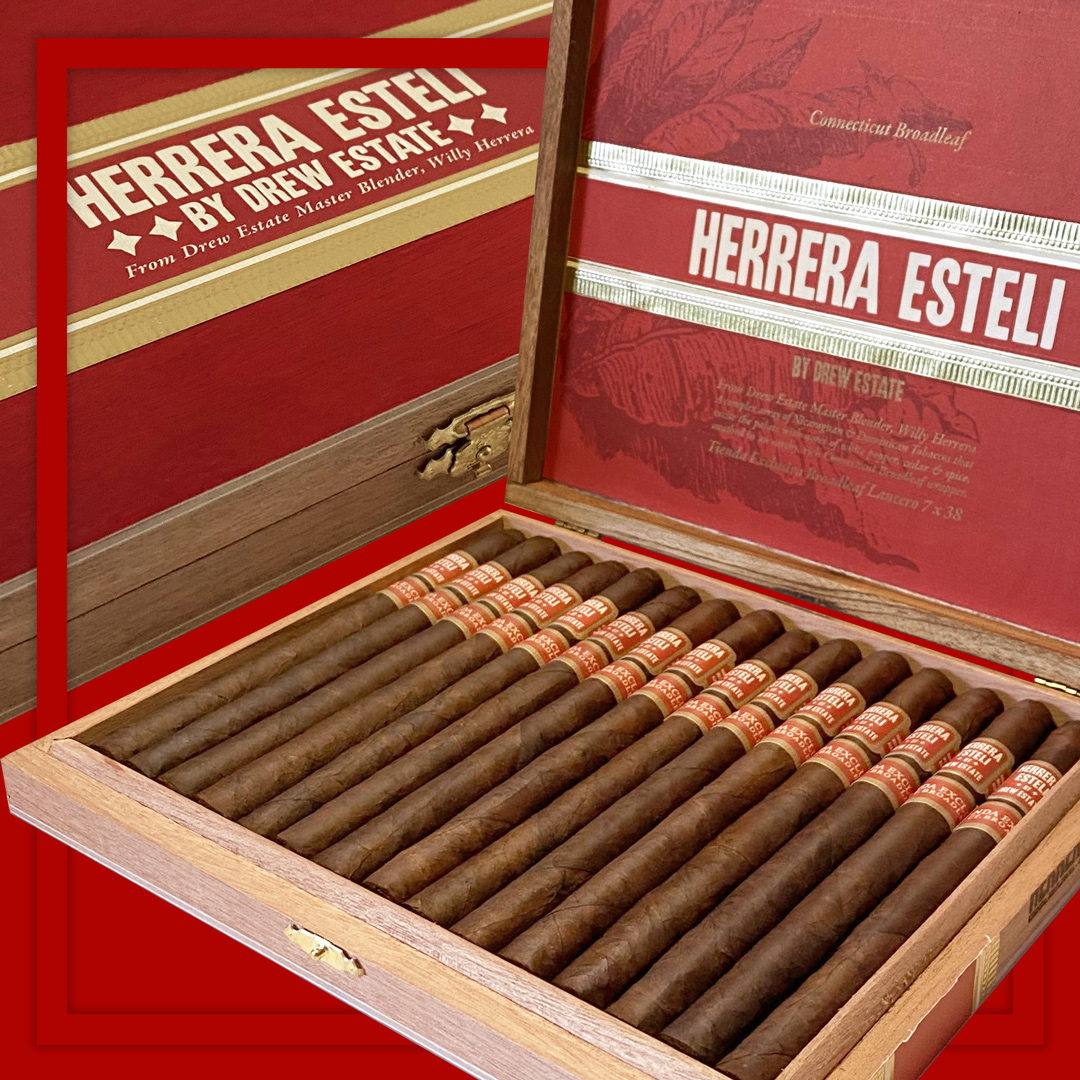 From El Titan de Bronze in Little Havana, Drew Estate Master Blender Willy Herrera exclaims, "There is always a challenge to blending lanceros. Sure, you have amazing broadleaf that's going to really provide that burst of rich flavor, but the trick is how you bunch the filler leaves in a way that provides the complexity, so the cigar doesn't become one dimensional. I knew when I first sampled this blend it was going to be loved, and now is the time to unleash it through our Drew Diplomat Retailers."
From the Wynwood Safehouse, Jonathan Drew President and Founder of Drew Estate adds, "Our Pre-Industry Team at La Gran Fabrica work Connecticut Broadleaf very hard in the pilones, using air flow, bulk pressure, water, and heat over years to reach the maximum flavor and color. Willy and the Production Team then follow up this process in blending this beautiful material into majestic blends for Liga Privada No. 9, Nica Rustica, as well as this very Herrera Lancero that we're bragging about today. The Herrera Lancero hits a whole new broadleaf profile, super delicious. As An Phan, our Senior Brand Manager says, "APPROVED.""
The Herrera Esteli Connecticut Broadleaf Lancero Tienda Exclusiva is sold in 15-count boxes with an MSRP of $186.96 and will be shipping in September.
For full coverage of Herrera Esteli Connecticut Broadleaf Lancero and all of Drew Estate's upcoming national releases check out our 2020 #DESummerTakeover promotion at
www.drewestate.com/summertakeover
and be sure to tune in to Freestyle Live: Special Edition hosted on
facebook.com/drewestatecigar
on June 11th from 7:00-9:00pm EST.